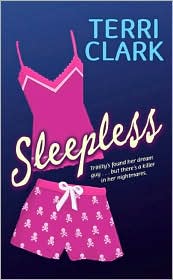 With a cover like that, Terri Clark's Sleepless is pretty much guaranteed to be a cute read. And, in my opinion, all cute reads must be fun, fast and funny-the three F's. And this book is all three-with maybe, another F thrown in:  Freaky Stalker-Murderer.
Years ago, Trinity helped in the capture of Rafe, a crazed murderer. And, she did it by dreaming. Ever since she was seven, Trinity's been able to "dream walk". Simply put, her dreams put her in the position of knowing things that she doesn't want to know. Now 18, her life's at risk because of that very "gift".  Rafe has escaped and all he wants is to kill her. 
Minus the supernatural plotline, Sleepless is very stereotypical. Trinity is "Goth Girl" and her best friend-"Soccer Star". They're hoping that this year will be a "summer of change". Trinity meets a hot guy who she's suspicious of at first and then...well, you can guess what happens. The beginning of the book turned me off because of this but I continued after reading
this review. 
So, despite all that, is it strange to say that I liked it? The characters own up to the stereotypes right away and after a bumpy few chapters, the story becomes, well, fun, fast, and funny. The novel is peppered with slang, and while sometimes some of the dialogue rang untrue, most of it was realistic.  But, the main reason why I liked it was because of Trinity. She's a tough, sarcastic character and reading the novel through her narration alternated between being mostly amusing, sometimes scary and never boring. 
So, a 7/10 for this book-a happy, go and read it or I will send a creepystalkermurderer after you. Just kidding.
Happy Reading,
RR2 (with RR1)